Tips, Guidance & Advice from the Pros! Join Michelle, Amy, and their guests as they bring real-life examples and guidance to the pod! When it comes to divorce, there is a lot to know that you don't want to learn the hard way. We'll talk legal tips, real estate, financial insight, and tips, tax implications, and beyond.
Episodes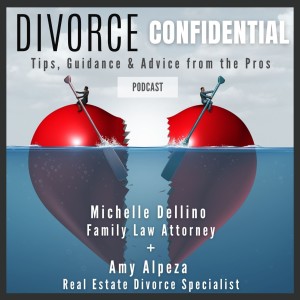 Monday Apr 10, 2023
Monday Apr 10, 2023
Michelle and Amy sit down for a conversation about community property and demystify some concepts and misunderstandings some of you may have about it.
Going through a divorce can be a difficult and emotional process, and understanding community property laws can add to the stress. In community property states, any assets or debts acquired during the marriage are considered joint property and must be divided fairly in the divorce settlement.
It's important to understand that community property laws don't necessarily mean that everything will be split down the middle. Rather, the goal is to reach a fair and equitable division of assets and debts. Factors such as income, earning potential, and contributions to the marriage will be considered when determining how property will be divided.
If you have any questions or concerns about how community property laws apply to your specific situation, it's important to consult with a lawyer who can provide guidance and help protect your rights.
Listen to the different stories, situations, and tips that might be useful for you!
Tune in, and get all the information, insight, and more