Tips, Guidance & Advice from the Pros! Join Michelle, Amy, and their guests as they bring real-life examples and guidance to the pod! When it comes to divorce, there is a lot to know that you don't want to learn the hard way. We'll talk legal tips, real estate, financial insight, and tips, tax implications, and beyond.
Episodes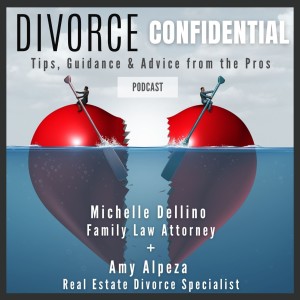 Monday Jan 23, 2023
Monday Jan 23, 2023
Michelle and Amy sit down for a conversation about how to deal with shared property as an unmarried couple. Whether you are in a long- or short-term relationship, unmarried people should only purchase property together when they have an agreement in place, and it's important to understand why!

A Committed Intimate Relationship (CIR) in Washington State means something different than it does in other states. You may have property rights even if you are not married. So, when a CIR dissolves you need to know what to do next and how to deal with shared property.

The easiest way to avoid messy situations down the road is to define the terms with a cohabitation agreement. In this episode, learn about when you should contact a family law attorney to draft an agreement, and why it is necessary to specify the terms up front to help save yourself from a contentious argument later on.

Tune in to learn more about what happens when you buy property as an unmarried couple, and how to prepare yourself if the relationship dissolves. Get all the information, insight, and more!