Tips, Guidance & Advice from the Pros! Join Michelle, Amy, and their guests as they bring real-life examples and guidance to the pod! When it comes to divorce, there is a lot to know that you don't want to learn the hard way. We'll talk legal tips, real estate, financial insight, and tips, tax implications, and beyond.
Episodes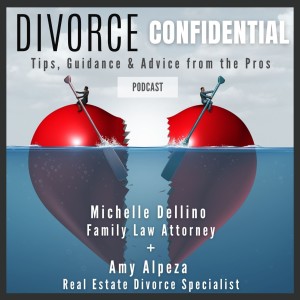 Tuesday Apr 25, 2023
Tuesday Apr 25, 2023
Michelle and Amy sit down for a conversation about the day-today stresses you can encounter while in the middle of a high conflict divorce.

Divorce is never easy and navigating a high-conflict divorce can often feel like an endless battle. If you are struggling to manage the day-to-day stress, know that you are not alone. Michelle and Amy are here to help you find the tools and support you need to get through this challenging time. Join them as they delve into coping strategies, co-parenting tips, and insights to help you not just survive, but thrive.

Explore how to let go of what's not within our control, prioritize self-care, and build a brighter future for you and your family.


Tune in, and get all the information, insight, and more!