Tips, Guidance & Advice from the Pros! Join Michelle, Amy, and their guests as they bring real-life examples and guidance to the pod! When it comes to divorce, there is a lot to know that you don't want to learn the hard way. We'll talk legal tips, real estate, financial insight, and tips, tax implications, and beyond.
Episodes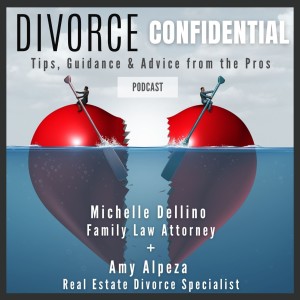 Tuesday Jun 07, 2022
Tuesday Jun 07, 2022
Don't miss this Divorce Confidential drop! This week Michelle and Amy met with Seattle attorney Ellery Johannessen of Johannessen Law PLLC to discuss important family law DON'Ts, valuing real estate in divorce cases, and Ellery and Michelle's current case involving a local celebrity and sex trafficking. So much in this episode! 
Ellery is an east coast transplant and owner of a small firm in West Seattle.  His career has seen a steady blend of family and civil litigation, and his current practice features both of those areas.  His wife Stephanie also works with him doing estate planning. You can reach out to Ellery and connect with him by visiting Johannessen Law PLLC 
online here 
or emailing 
ellery@eaj-law.com