Tips, Guidance & Advice from the Pros! Join Michelle, Amy, and their guests as they bring real-life examples and guidance to the pod! When it comes to divorce, there is a lot to know that you don't want to learn the hard way. We'll talk legal tips, real estate, financial insight, and tips, tax implications, and beyond.
Episodes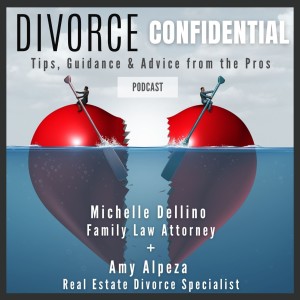 Tuesday Jan 10, 2023
Tuesday Jan 10, 2023
Tune in for our conversation about how to manage your cash flow when you are going through a divorce. Michelle and Amy are joined by divorce cash flow strategist, and founder of Get Priorities Straight (GPS), Doug Peterson.

Now is the time to take control of your money! Hear about all the things you need to consider to create cash flow clarity, and learn how to develop innovative spending and saving habits to gain financial peace of mind. Plus, get the tools and insight you need to take control, reduce stress, and gain insight into your financial situation so your funds support the priorities and values that drive you.

Learn more about Doug and connect with him by visiting the Get Priorities Straight website (getprioritiesstraight.com). Get Priorities Straight (GPS) partners with you to create cash flow clarity, develop innovative personal goals. You can also schedule a meeting with Doug directly at schedulewithdoug.com.