Tips, Guidance & Advice from the Pros! Join Michelle, Amy, and their guests as they bring real-life examples and guidance to the pod! When it comes to divorce, there is a lot to know that you don't want to learn the hard way. We'll talk legal tips, real estate, financial insight, and tips, tax implications, and beyond.
Episodes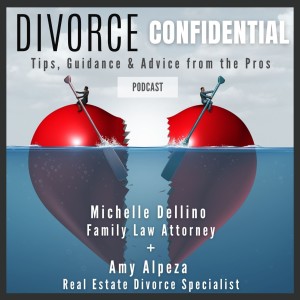 Wednesday Aug 10, 2022
Wednesday Aug 10, 2022
Tune in to learn about our MeetUp Group - The Do's & Don'ts of Separation & Divorce. In this episode, Michelle and Amy discuss their monthly divorce MeetUp group and the different ways you can get involved. 

The MeetUp events are either held in-person or virtually, and are a round table discussion / Q&A with our certified divorce advisory team! These events allow us to discuss different topics related to separation and divorce and offer participants the tools to navigate their way through those transitions in the best way possible. Every month we offer a place for you to get your questions answered in a safe, private environment.
Join our Do's & Don'ts of Separation and Divorce MeetUp group, check out the upcoming schedule of events, and learn more
online here
.