Tips, Guidance & Advice from the Pros! Join Michelle, Amy, and their guests as they bring real-life examples and guidance to the pod! When it comes to divorce, there is a lot to know that you don't want to learn the hard way. We'll talk legal tips, real estate, financial insight, and tips, tax implications, and beyond.
Episodes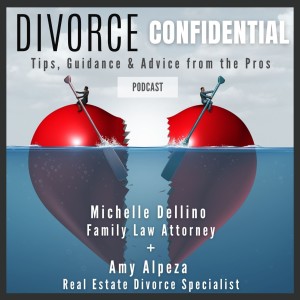 Tuesday May 23, 2023
Tuesday May 23, 2023
Tune in for our conversation with licensed therapist, and founder of Better You Seattle, Melissa Rosenberg, LICSW. We met with Melissa to discuss the challenges and complexities of navigating the divorce process.
Divorce can be a highly emotional and stressful experience, but with the right guidance and support, you can make it through to the other side. Whether you're just starting out or in the middle of the process, we cover everything from deciding whether you want to pursue divorce, setting up a support system, and how to handle the grief from separation.
Our goal is to demystify the divorce process and empower you with the knowledge and resources you need to make informed decisions and protect your peace. Listen to this episode for practical tips and more info. 
Learn more about Melissa and connect with her by visiting the Better You Seattle website. Melissa focuses on working with clients who are experiencing emotional distress, adjustment challenges, or communication difficulties. With over 15 years working in mental health, she offers an abundance of experience and a strengths-based, solution-focused perspective to her work with clients.