Tips, Guidance & Advice from the Pros! Join Michelle, Amy, and their guests as they bring real-life examples and guidance to the pod! When it comes to divorce, there is a lot to know that you don't want to learn the hard way. We'll talk legal tips, real estate, financial insight, and tips, tax implications, and beyond.
Episodes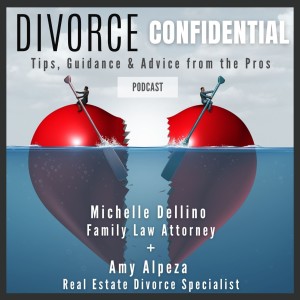 Tuesday Jan 17, 2023
Tuesday Jan 17, 2023
Michelle and Amy sit down for a conversation to kick off the new year about divorce season and understanding the current housing market.

The first quarter is called "Divorce Season" because more divorces are filed in this timeframe than are filed all year. It's important to understand why and what to do next.

Maybe you've made it through the holidays but are thinking about taking action in moving on from your relationship. It's important to be deliberate with your choices and talk to someone about the needs of your circumstances. Or perhaps you've been served with divorce papers. If so, don't panic! Talk to an attorney right away and get a game plan together. 

January is also a great time to bring your home to market, and now is a great time to buy! Interest rates are still up from where they were last year, but prices have gone down a bit. The frenzied market is over and things are getting back to a more balanced state. With less competition out there, now is a good time to invest. The market will always fluctuate, so talk to your real estate agent to understand what makes the most sense for your life choices.

Tune in to learn more about Divorce Season and dive deeper into the current state of the housing market. Get all the information, insight, and more!