Tips, Guidance & Advice from the Pros! Join Michelle, Amy, and their guests as they bring real-life examples and guidance to the pod! When it comes to divorce, there is a lot to know that you don't want to learn the hard way. We'll talk legal tips, real estate, financial insight, and tips, tax implications, and beyond.
Episodes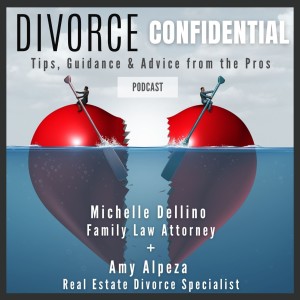 Thursday Nov 03, 2022
Thursday Nov 03, 2022
Tune in for our conversation about second marriages, and the importance of talking about finances before getting married. Michelle and Amy are joined by founder of Sephton Financial, Donna Kendrick, CFP®, CDFA®.

With interest rates on the rise, inflation at an all-time high, and in an uncertain economy, the role of financial planning is more important than ever! Hear about all the things you need to consider from a financial perspective before getting married. Plus, learn how families in transition can get clarity on their new financial picture and develop a plan that connects their future goals with their day-to-day life so that they can move forward confidently.

Learn more about Donna and connect with her team by visiting the Sephton Financial website (sephtonfinancial.com). Donna focuses her practice on financial planning for families in transition. She is also a published author, and hosts her own podcast called Widow, Wisdom & Wealth™ with Donna Kendrick, where she covers all angles of financial planning.